Events
Avigilon presented video surveillance at the CGS Bahamas Event
2 minutos de lectura
(Bahamas, SoloAzar Exclusive).- SoloAzar interviewed exclusively the regional sales director for Central America and the Caribbean of Avigilon, Norberto Torres, during the Caribbean Gaming Show (CGS) held on May 3rd and 4th in the Bahamas. In this article he tells us about the work they are doing, and the importance of being present in this event, as well as the firm´s plans for the future.
What does the company Avigilon focus on?
Avigilon is the video division of Motorla Solutions. We manufacture video surveillance and AI equipment. Our differentiator is to offer a complete portfolio of end-to-end video security products and services, i.e. software, AI, intelligent access control systems with deployment options in the cloud as well as on-premise.
Currently 200 casinos worldwide are implementing our video surveillance solution.
Why is it important for Avigilon to be present at the CGS, Bahamas, Caribbean edition?
I am from Puerto Rico, but I love the Bahamas. We are here working hand in hand with the Caribean Gamming Summit team.
For Avigilon, it is important to be present in the Caribbean, because one of our goals is to introduce our product in the Bahamas, hoping that this flexibility will allow expansion in the market and allow the use of our products.
How do you see the Caribbean market for your company?
For the last 6 years we have been growing steadily. During the pandemic it slowed down a bit, but since last year we have increased our growth.
The main reason is that we are very focused on solutions. We don't offer equipment. We adapt to the customer's needs and budget. Another big advantage is that our platform is open. We can work in stages. Reusing some of the existing equipment. Our video, cloud and access control solutions integrate seamlessly with the existing video security system.
What other events are you planning to participate in?
In general, during the year we will be present at four security events, not necessarily for casinos, but for security at an international level. One is in Las Vegas, Dallas, London and Dubai. In relation to casinos, we always go to the B2C event in the US, G2E. On a regional level, we participate in events in the Caribbean Gaming. We are also present at all the events where we are invited to be present and make ourselves known.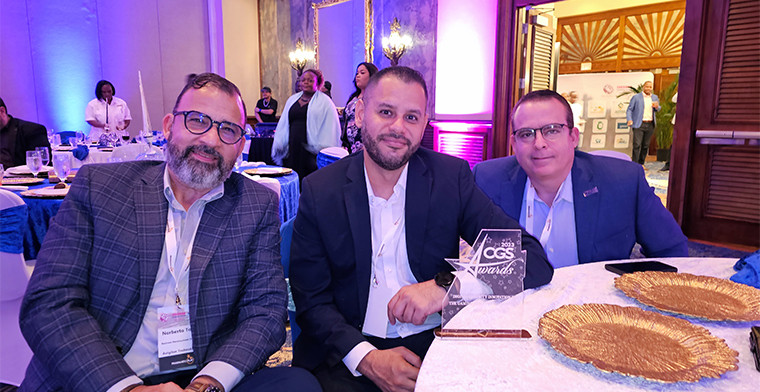 Categoría:Events
Tags: CGS,
País: Bahamas
Región: Central America and Caribbean
Event
SBC Summit Barcelona 2023
19 de September 2023
(Barcelona, Exclusive SoloAzar).- Mateo Lenoble, regional sales Director EMEA/LATAM sales at Sportradar, granted an interview to SoloAzar about the recent participation of the company at SBC Summit Barcelona. He shared the ORAKO sportsbook solution showcased on Stand SB22.
Friday 22 Sep 2023 / 12:00
(Barcelona, Exclusivo SoloAzar).- SBC Summit Barcelona returns this week to Fira de Barcelona Montjuïc for its third edition, in what promises to be the biggest ever SBC event. The pre-registration was held yesterday in what proved to be a great meeting that gathered all the exhibitors that today began to showcase their products and services at the exhibition zone. SoloAzar is covering the trade show with all the novelties.
Wednesday 20 Sep 2023 / 12:00
(Sofia).- SBC Summit Barcelona 2023 is the next event on EGT Digital's calendar, where the iGaming provider will demonstrate the latest novelties in its portfolio. Guests can see them at stand CG20 on 20 and 21 September.
Tuesday 19 Sep 2023 / 12:00
SUSCRIBIRSE
Para suscribirse a nuestro newsletter, complete sus datos
Reciba todo el contenido más reciente en su correo electrónico varias veces al mes.
PODCAST
MÁS CONTENIDO RELACIONADO