Events
"Following the tremendous success of the Barcelona show, the entire SBC team is very much ready for the next chapter", Dennis Algreen, SBC Gaming
2 minutos de lectura
(Barcelona, SoloAzar Exclusive).- Dennis Algreen, Marketing Director at SBC, granted an interview to SoloAzar in which he made an evaluation about the organization of the recent SBC Summit Barcelona, that took place from September 19 to 21 at Fira Barcelona Montjuïc, in Barcelona, Spain. He also talked about the achievements of the show, and the new destination on 2024, the Feira Internacional de Lisboamarkets, in Lisboa, Portugal, among other issues.
After last year's massive success, how were the preparations for this new edition of SBC Summit Barcelona 2023, and what challenges did you face?
Last year marked a turning point for us when we began to realize the incredible potential of this event. With 6,000 attendees, it was a significant leap for us, especially considering that our first edition took place just after the onset of COVID-19, making it a more intimate affair. But as we witnessed the growing interest from sponsors, exhibitors, and the increasing number of ticket sales, we knew we were in for something special.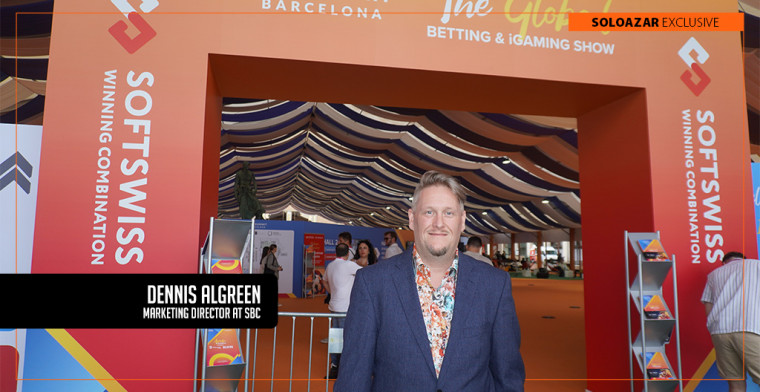 The event was bustling, highly productive, and the feedback we received was overwhelmingly positive. As we geared up for the 2023 edition, our initial goal was to reach 10,000 attendees. However, by January, we had already sold 90% of the booth spaces, sponsorships were pouring in, and the demand was greater than ever before.
Three months before the event, it became evident that we needed to set our sights higher. We revised our target to 15,000 attendees, added extra booths to meet the demand, and introduced a new expo-only ticket type for those interested in exploring the exhibition floor exclusively.
We made several enhancements to ensure our attendees would have a comprehensive and memorable experience, including arrangements for the evening networking parties. Throughout our preparations, we held true to three core principles: ensuring the right people would be in attendance, incorporating valuable feedback from last year's event, and delivering an unforgettable experience for all.
In terms of challenges, our top priority was ensuring a seamless experience as the event expanded to cover a vast 38,000 square meters. With nearly 350 booths on display, we implemented various strategies to enhance navigation. This included color-coding different zones, adding an additional hall, and placing clear signage and maps throughout the venue, all aimed at making it easier for our attendees.
The event turned out to be a tremendous success, and I take great pride in the hard work and dedication of our team.
Could you comment how this edition has ended, in terms of number of visitors, exhibitors, and conferences?
We're thrilled to announce that we successfully reached our goal of attracting nearly 15,000 attendees, and that's an incredible achievement. We had 350 exhibitors, featured seven conference stages, 450 speakers, and delivered over 80 hours of valuable content. These numbers are undoubtedly impressive, and they have us feeling extremely optimistic about our upcoming move to Lisbon.
Our new destination, the Feira Internacional de Lisboa, boasts a spacious 100,000-square-meter venue that will comfortably accommodate 600 exhibitors, with a target of hosting 25,000 attendees. Following the tremendous success of the Barcelona show, the entire SBC team is very much ready for the next chapter.
For the organisation of the Conference Agenda, what elements or factors did you take into account?
Our conference team consistently engages with industry insiders to identify the most current and captivating subjects.
This is always one of the most intricate processes, and we take great pride in the quality of our content. Consider that we run seven conference stages simultaneously, with each panel featuring four to five speakers and a moderator. Securing these speakers is no easy task; they are genuine experts, trailblazers, and innovators. It's a lengthy process that demands extensive research and meticulous planning.
What makes this event unique is its global scope, encompassing all verticals. Therefore, we had to ensure coverage of sports betting, casino and igaming, payments, compliance, player safety, affiliation, and, naturally, the hottest topic of the past year - emerging tech and AI.
We also had to address the major markets that hold people's interest - European markets, Latin American markets, Asian markets, the US, Canada - you name it. I believe our conference team did an exceptional job fitting all of this into the schedule while creating an even more interactive environment. Attendees had the opportunity to pose questions to the panelists and help steer the focus of each session.
Another remarkable addition was the roundtable sessions, offering a deep dive into specific markets, verticals, and topics. These sessions capped off each conference day, with a total of thirty roundtables - a remarkable effort by our conference team and warmly received by our participants.
And let's not forget our keynote sessions, featuring luminaries such as Daniel Taylor, CEO of Flutter International, and Matthew Ball, a true pioneer in the metaverse space. Matthew Ball's insights are particularly renowned among metaverse enthusiasts. These keynote sessions were truly outstanding.
What was the feedback of the visitors and exhibitors to the networking spaces organised in segments, meaning in different zones?
As I mentioned earlier, we expanded the exhibition floor's size, doubling it compared to last year, now covering an impressive 38,000 square meters. The concept of dividing the exhibition floor into distinct zones in Barcelona is not new to us. We've been doing it for a few years now, creating five specific zones: Sports Betting, Casino & iGaming, Affiliate, Media and Marketing, Payments & Compliance, and Emerging Tech. This time around, with such a vast area to navigate, these zones became more relevant than ever.
We were committed to making navigation as easy as possible. We had two separate registration entries and self-service desks for your convenience. Each zone had dedicated networking areas for attendees who didn't have a stand so had to find a convenient location to hold their meetings. Additionally, we set up SBC Connect + Lounges, allowing people to arrange meetings using our event app.
There were multiple catering and refreshment areas, including a new addition in the form of food trucks, offering more dining options. We provided several lounges, including speaker lounges, an Affiliate Leaders lounge, media lounges, and and SBC Leaders lounge, ensuring comfort in every zone.
We also introduced the Festival area, which I'm sure many of you visited during the event. This area not only accommodated certain exhibitors but also offered amenities like a sangria and tapas bar, an ice cream bar, and a juice and smoothie bar, among others.
We put in our best efforts to ensure everyone's comfort, making the distances more manageable and providing enough seating for relaxed conversations with clients. The feedback we've received truly reflects the thoughtfulness behind each and every element.
What was the place that new technologies occupied during the three days of the event?
Jonny Whelan, our Director of Conference Production for European events, mentioned that the initial draft of the agenda was actually ready back in December. This timing makes sense since approaching speakers and allocating them to panels requires a working document to start with. However, our plans took a complete turn when the AI boom happened. We had to reimagine the agenda to incorporate this new element.
While we already had a separate track dedicated to emerging technologies and AI, we needed to find ways to weave this element into various panels across the agenda, whether they were discussing sports betting, player protection, or affiliation. It became increasingly clear that AI would be intricately connected with our lives.
As you may already know, we also had the Emerging Tech Zone on the expo floor, where numerous exhibitors showcased their new products, many of which were powered by emerging technologies. Furthermore, we hosted an Emerging Tech Meet-up on the expo floor, just one of the many meet-ups organized this year to ensure that everyone could find something that piqued their interest.
The First Pitch start-up competition aligns perfectly with this spectrum. We had five companies presenting their products to judges, competing for a prize fund worth over 60,000 euros. Many of these solutions are made possible because of emerging tech, and we had the privilege of witnessing these new beginnings and assisting these companies in their growth and development plans.
Lastly, if you consider the event app, SBC Connect+, it's also powered by AI, enabling virtual matchmaking among attendees based on their company or personal profiles. This feature helps people secure better deals and utilize their time more effectively - so we, ourselves, have been trying to incorporate emerging technologies into our offerings.
Anything else you would like to add?
This year, we added a unique pre-event experience to the mix - the SBC Leaders Summit. It was an exclusive invite-only gathering attended by 500 CEOs and other C-level executives. This special occasion featured a rich lineup of conference content, a poker tournament and a captivating keynote from none other than Frank Abagnale, the real-life inspiration behind Steven Spielberg's 'Catch Me If You Can.'
A significant highlight of this event was the induction of industry luminaries into SBC's Hall of Fame. We honored Gustaf Hagman (CEO and Co-Founder, LeoVegas), Jordan Levin (CEO, OpenBet), Per Widerström (Incoming CEO, 888 Holdings - effective October 16, 2023), and Brigid Simmonds OBE (Chair, Betting and Gaming Council), among others.
The feedback for this summit has been overwhelmingly positive, as it's a rare treasure trove of industry insights and connections when so many top-level professionals come together.
Last but certainly not least, attendees had the unique opportunity to meet football legends such as Roberto Carlos, renowned as one of the greatest left-backs in the world, Clarence Seedorf, widely acknowledged as one of the greatest midfielders of this generation, and Luis Figo, the former World and European Footballer of the Year, who graced both FC Barcelona and Real Madrid with his talent and currently serves as the brand ambassador of Digitain.
Seedorf and Figo also joined us at our 10th-anniversary edition of the SBC Awards, providing a fantastic conclusion to the event at the picturesque Caves Codorniu. With a stunning location, an enthusiastic crowd, and well-deserved award winners, it truly was an exceptional ceremony.

Categoría:Events
Tags: SBC Summit Barcelona,
País: Spain
Región: EMEA
Event
(Sofia).- EGT Digital's iGaming platform X-Nave was acknowledged as "Online platform of the year" from the 2023 edition of the BEGE Awards. The competition traditionally accompanies the BEGE Expo show and the EEGS conference and this year gave awards in a total of 22 categories, covering both land-based and digital aspects of the gaming industry.
Friday 01 Dec 2023 / 12:00
(Sofia).- EGT reaped great success at this year's edition of the BEGE Awards, taking 3 prizes from the competition. At a ceremony held at Club Black & White at Grand Hotel Millennium in Sofia on 21 November, the Bulgarian manufacturer of gaming equipment received awards in the "Supplier of the Year" and "Jackpot Concept of the Year" categories and the company's CEO Vladimir Dokov was acknowledged as "Executive of the year".
Thursday 30 Nov 2023 / 12:00
(Sofia). - It was a great conclusion to the exhibition year 2023: The Balkan Entertainment & Gaming Expo (BEGE) in Sofia, one of the most important B2B gaming trade fairs in Eastern Europe, once again proved to be an extremely successful and well-attended event.
Wednesday 29 Nov 2023 / 12:00
SUSCRIBIRSE
Para suscribirse a nuestro newsletter, complete sus datos
Reciba todo el contenido más reciente en su correo electrónico varias veces al mes.
PODCAST
MÁS CONTENIDO RELACIONADO