Events
MGR showcase their comfort and aesthetic designed products at ENADA with high positive feedback
2 minutos de lectura
(Rimini, SoloAzar Exclusive).- GUIDO RIZZI, Global Chief Operating Officer at MGR Casino Chairs, granted an interview with SoloAzar during the ENADA Spring at Rimini Expo Center in Italy, held from 14th to 16th March. Guido talked about their expectations of this edition, the local and the American market where they are already set, and the Latam market they are working on. Finally, he talked about their high quality products showcased at booth C1-194.
We are at the 35th edition of the ENADA fair, in Rimini, Italy. With what expectations did you come to ENADA, and what products did you bring to exhibit?
Our company is Italian and for us it is always a pleasure to participate and be present at the ENADA expo. Our first beginnings were here, in Italy, with the first casinos and local operators, so it is very representative for us to come back here one more year. Our expectations are very good, and very positive.
As for the products to be exhibited, we brought new lines, but above all we have the expectation of guaranteeing our customers an effective product, of design and durable in time, and that surely, they will be satisfied with a wide range of prices for all of them.
Do you have specific products for a particular market?
In Italy, our local market is very developed at the moment. We have many types of products. For example, the AWP of our Streetmarket line, and we have lower-cost products, but with the same quality, such as casino slot chairs. We also have a line of bingo tables and chairs.
All our products have an excellent quality and style and guarantee so much comfort; and each line has its own characteristics.
It is important for us that the customer may sit comfortably and play for a long time.
How do you see the market in Italy related to the gaming industry and to the products you manufacture?
We work all over the world. We work in Europe, in the USA, in Asia.
Italy is a market with a lot of operability. In Italy there are more than 350 thousand connected machines, which is more than in France, Germany, Spain, England.
However, there is the regularization of the legal market issue. This is what allows many entrepreneurs and operators to industrialize their work and make investments. Otherwise, it becomes a bit more difficult.
I think the Italian market it is very developed, and here the producers and machine manufacturers can find ideas, can find their creative point and for sure they have material to work with.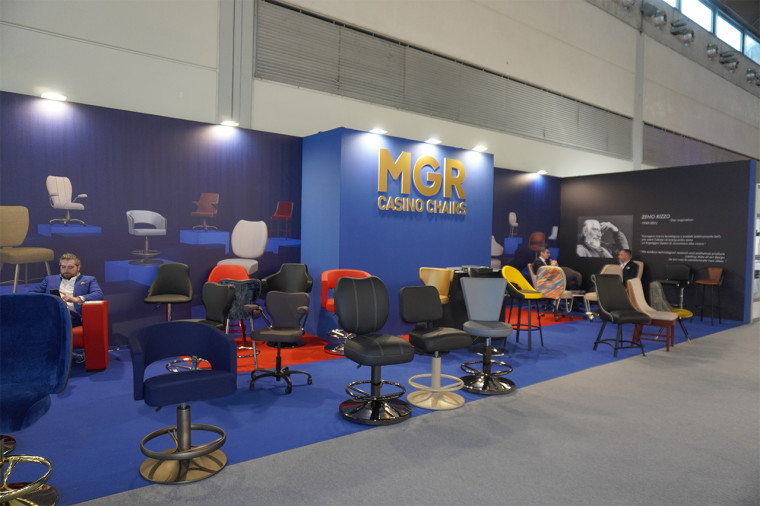 What are the company´s goals for this year?
We are very optimistic for this year. Our work in the United States is growing a lot, year by year, and we have many clients from there. It impacts us in a very positive way in our global market growth. We are based in Las Vegas. There, in the U.S.A. , the casino chair market is huge compared to Europe. The prospects for growth in Europe are good, but in the U.S.A. they are huge!
We are also investing in the Philippines market in Asia.
Another market we are targeting this year is Peru. For the first time we will be present at the PGS, Peruvian Gaming Show. This is important for the company, to strengthen our presence in the Latin American market. We have been entering in the Latam region for some time, and last year we set up base in Perú, with two people representing the company. This year we will be present at the expo in Peru for the first time. And it is very likely that we will visit Argentina.
What is the next event you will be attending?
We will be present at IGA, the Indian Gaming Association tradeshow, which takes place in San Diego from March 27 to 30. We are following a project in Oklahoma and this expo is very important for us because we will be able to do a lot of networking there.
Categoría:Events
Tags: MGR Casino Chairs, ENADA2023,
País: Italy
Región: EMEA
Event
CGS Bahamas 2023
02 de May 2023
(Bahamas, SoloAzar Exclusive).- For Elizabeth Leiva, CEO of CGS GROUP, the balance of the recent edition of CGS Bahamas and the Regulators Forum was very positive. "The gaming industry in the Bahamas is constantly growing, regulated and changing," says Leiva, as she prepares for CGS LATAM, which will take place in a few weeks in Santiago de Chile.
Friday 19 May 2023 / 12:00
(Nassau, SoloAzar Exclusive).- David Fica Jaque, Founder and CEO of Land Vegas, presented in CGS Bahamas a preview of what will be Land Vegas, a Metaverse focused on entertainment and games, with sports betting and casino games. Exclusively with SoloAzar, he talked about his experience at the trade show and his plans for this year.
Monday 15 May 2023 / 12:00
(Bahamas, SoloAzar Exclusive).- SoloAzar interviewed exclusively the regional sales director for Central America and the Caribbean of Avigilon, Norberto Torres, during the Caribbean Gaming Show (CGS) held on May 3rd and 4th in the Bahamas. In this article he tells us about the work they are doing, and the importance of being present in this event, as well as the firm´s plans for the future.
Tuesday 16 May 2023 / 12:00
SUSCRIBIRSE
Para suscribirse a nuestro newsletter, complete sus datos
Reciba todo el contenido más reciente en su correo electrónico varias veces al mes.
PODCAST
MÁS CONTENIDO RELACIONADO